News and updates from ENCOUNTER
The wall paintings at Ellys Manor House – a unique treasure
Discovered nearly one hundred years ago the wall paintings at Ellys Manor House still pose fascinating questions and call upon continued research. Currently the context and meaning of the early Christian symbols found in these paintings are being analysed and we are calling out for specialist and researchers who are interested in getting involved in the project.
Ellys Manor House and the Holy Cross church 
Credit goes to Anthony Ellys, a rich English wool merchant (and pilgrim), of the Stapel of Calais, for having built the beautiful little stone manor house with crow-stepped gables and deep cavetto stone mullioned windows and the magnificent, mostly perpendicular tower to the nearby Holy Cross church. On the inside the church is adorned by carved stone figures of wool merchants bearing their arms & merchants' mark, and on the outside by gargoyles, among which is the Christ figure, and possibly the earliest bespectacled gargoyle in the Kingdom. Together, these two iconic buildings personify the wealth of England through the wool trade, thus also fully encapsulates early modern European and British history from both sides of the Alps.
New research and collaborations  
Architectural historian Sir Nikolaus Pevsner (and other eminent scholars of the day) described the early 16th-century wall paintings in the house upper rooms as "a rare English interpretation of French verdure tapestries."  The wall paintings dated around 1500 are said to be, "the most complete, extensive, and important domestic decoration of this date in the country." As of December 2019, I have deciphered the images to find early Christian symbols and currently I am collaborating with three competent PhDs in that field of study to corroborate my findings, which appears to take us on a pilgrim's trail through Burgundy, France. However, if others wish to be involved, we look forward to hearing from you. We are dealing with a massive and exciting project that will bring more clarity to Europe's history.
Clive M. Taylor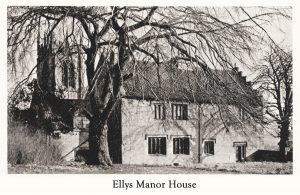 Ellys Manor House, Great Ponton, Grantham, Lincolnshire, NG33 5DP UK
Telephone: (44) (0) (1476) 53 0023   Fax: (44) (0) (1476) 53 0573
E-mail: ellysmanor@btinternet.com
Website: www.ellysmanorhouse.com