News and updates from ENCOUNTER
New Director at Gammel Estrup – The Danish Manor & Estate Museum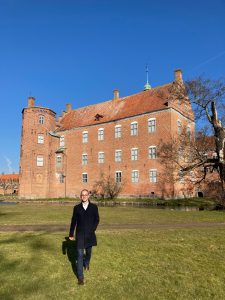 1st May 2022 Kasper Steenfeldt Tipsmark took up the position as museum director at Gammel Estrup – The Danish Manor & Estate Museum. Tipsmark who recently finished his PhD "The king's horses – Equine culture and the function of the horse at Christian IV's court 1588-1648" is no stranger to Gammel Estrup. During his studies at Aarhus University, he has worked both as an intern at the museum and as assistant at the Danish Research Centre for Manorial Studies
Upon taking the position as director Tipsmark said: "It is with a feeling of returning home that I now take up the position as director at the museum. I'm really looking forward to realise new, exciting projects together with the museum's staff and our many volunteers who, like me, have a great love for Gammel Estrup.
The new director has a broad vision for the museum: "The history of the Danish manor is the story of magnificent houses and the upper strata of society – as well as the story of the many tenant farmers and servants who also lived their lives at the estates. It is my ambition to strengthen Gammel Estrup's position as the leading Danish institution telling these stories."
Kasper Steenfeldt Tipsmark succeeds Britta Andersen, who through her 22 years as museum director at Gammel Estrup has developed the museum into a leading institution in the field of manorial studies. Tipsmark has also taken over as member of the board the Danish Research Centre for Manorial Studies after Britta Andersen.
For further information contact: post@gammelestrup.dk
About Gammel Estrup and The Danish Research Centre for Manorial Studies: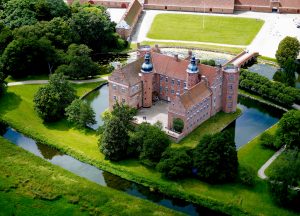 Gammel Estrup – The Danish Manor & Estate Museum is Denmark's leading manor house and estate museum. The museum was founded in 1930, and its activities include the preservation and development of Gammel Estrup Manor as well as research and presentation of the history of Danish manors in general. The museum undertakes research all aspects of manors, including architecture and landscape, culture and history, agriculture, and economy – both in a national and an international perspective.
The Danish Research Centre for Manorial Studies is a collaboration between Gammel Estrup – The Manor Museum, Aarhus University, Aarhus School of Architecture, and the National Museum of Denmark. The research centre was established in 2004 with the specific purpose of promoting research, education, documentation and interpretation on the cultural history and heritage of estates and country houses.