News and updates from ENCOUNTER
New Book: Resilient Estate Landscapes Gelderland. Past | Present | Future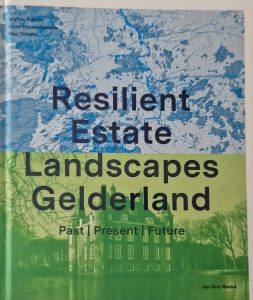 The province of Gelderland (the Netherlands) inherits many castles, country houses and estates. Together they form historic estate landscapes that partially determine the regional landscape character. Climate change and urbanisation have a significant effect on the management and protection of these heritage landscapes. An abundance and a shortage of water, spatial fragmentation and increasing pressure from recreation and tourism are only a few of the challenges that need to be addressed. The complexity of these challenges requires a regional perspective to understand the coherence and systemic relationships between the estates and to help find common ground in which stakeholders can work together to increase the resilience and adaptability of these valuable landscapes.
Resilient Estate Landscapes Gelderland proffers a landscape-based regional approach to understanding, planning, and designing heritage estate landscapes. It elaborates a preservation-through-planning approach that takes spatial development with historical landscape structures as a basis and engages in a process with meaningful stakeholder engagement and visualisation/communication to invent spatial strategies and principles founded on co-creation and collaboration while employing spatial design as an essential means.
Resilient Estate Landscapes Gelderland results from a collaborative project of TU Delft Landscape Architecture, the Province of Gelderland and heritage organisation Gelders Genootschap in the framework of the Characteristic and Sustainable Heritage (KaDEr) programme and the EU-Interreg project Innocastle. The book provides a powerful roadmap for the protection and development of future-proof estate landscapes by presenting a practice-oriented approach and its implementation in policy, planning and design. While showcasing best practices from the region and beyond, the book is a valuable resource for everyone interested in the past, present and future of heritage estate landscapes.
Steffen Nijhuis, Paul Thissen, Elyze Storms-Smeets
Published by Jap Sam Books
A Collaboration of Delft University of Technology, Province of Gelderland, Gelders Genootschap.
In the framework of KaDEr, Innocastle