News and updates from ENCOUNTER
Day of the Castle | Online: a quick transition to a digital event
Janneke van Dijk, project manager Day of the Castle, Dutch Castle Foundation
Monday June 1st was the 13th edition of our annual event Day of the Castle, the goal of which is to raise awareness about castles and country houses as heritage, as sites of interest for recreational purposes, and as landmarks in the environment. The format is that participating castles and country houses, with special emphasis on locations that are not regularly open to the public, receive visitors on this day and offer a variety of activities and stories. On average 60.000 people visit the event yearly.
The event is research based. Meaning that we transform research findings into accessible and relatable stories which we convey to the audience via a program consisting of lectures, story concerts, archeotrails (guided tours around archaeological castle sites), theatre performances and such. Our way of working is that we start with a theme and an academic essay. This is to lay the research-based foundation for the event. For 2020 the theme was: Occupied & Liberated: castles and country houses in 1940-'45. The theme was connected to other 75 years of liberation festivities in the Netherlands. The 2020 essay was written by prof. dr. Hanneke Ronnes, Van der Wyck professor Historical country houses and estates at the University of Groningen, and her colleague dr. Conrad Gietman, also staff member of the high council of nobility.
This research-based approach has deepened over the past two years. Not only has it transformed the character of the event but also the role of the Dutch Castle Foundation. Our role has shifted from event planner and facilitator into that of an authority on transforming research findings into accessible and relatable stories. Our effort is now directed towards developing a strong program with a high-quality content. The 2020 program would have been staged at 18 locations.
Our program is supplemented by a diversity of programs at over a hundred castles and country houses all over the country. With theme and essay we stimulate owners to commit to this subject-matter driven approach and share their stories 'on site'. For 2020 our participants were developing interesting activities.
But then came Corona. Our choices were to 1) move the day, or 2) alter the concept. We chose the last. Our choice was prompted by the thought that the autumn months, when events hopefully will be possible again, will be pretty busy with other events. But our choice was mainly motivated by the fact that we wanted to stick to our main goal; raise awareness on this one designated day.
We came up with a new concept, a digital portal: digitaal.dagvanhetkasteel.nl. Here we gathered all the different stories and made them digitally accessible. In a few months' time we created a digital database consisting of 98 'tiles'. Each tile contains a story and one or more appealing photo's. We divided the content in 'read', 'listen', 'watch', 'do'. The program consists of podcasts, guided walking and biking routes, interviews, a variety of short essays and beautiful, sometimes unique, footage. Visitors can browse the stories or select by category, our top ten or they can use the search option. We made tiles not only for our own program but also for the participating castles whom we asked to send in their stories about WWII. To mark the day itself and the 'grand opening' of the digital portal, we selected five stories that we presented as a premiere on the day itself.
Like many event organizers and heritage sites we faced the question how to create a strong visitor experience for the digital event. Before the Covid-19 crisis we regarded Day of the Castles as a visitor experience primary presenting the opportunity to physically visit the locations. We were forced to rethink the concept. After the pressure of getting the Day of the Castle | Online up and running on time, we can now take a step back and see where it lead us. We are no way near our normal attendance of 60.000, but the preliminary results appear positive. We had a little over 3000 visitors on the Day of the Castle itself and a total of 5000 visitors since the launch of the portal on May 5th. Most of them first time visitors. People seem to limit themselves to one or two tiles during their visit. Almost 60% uses a mobile device. Unfortunately we had some technical problems at the day itself which made the website unavailable for a while.
The change was more complicated than we anticipated. It was not a matter of scaling down the activities, but it involved a new way of presenting them. We still have a lot to learn when it comes to this. The upside is that in going digital the content is well documented and secured and all the stories remain findable and accessible for a much wider audience and beyond the one day of the event. The downside is the lack of urgency. Because the products remain visible, there isn't an urgent need to watch/read/listen to them on this day. Digital attendance, certainly for this kind of heritage, doesn't have the same feel and effect as being there. The other difficulty was how to reach our audience. We realize that creating public attention to a digital event is something different than what we are used to. It asks for a different approach to reach our audience and requires a different sort of media and press attention.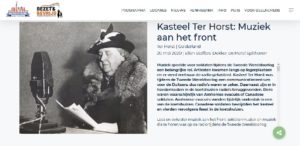 I would very much like to hear from others how heritage events are being organized and what methods you find to be most effective in arousing the attention of the public. Please do not hesitate to contact me on j.vandijk@kastelen.nl. Feel free to have a look on https://digitaal.dagvanhetkasteel.nl/ and give me your feedback. I am looking forward to your response.