News and updates from ENCOUNTER
New Publication about Luxury and Taste in Early Modern Europe
A Taste for Luxury in Early Modern Europe. Display, Acquisition and Boundaries. Johanna Ilmakunnas and Jon Stobart (eds.). Bloomsbury 2017
Jon Stobart and Johanna Ilmakunnas bring together a range of scholars from across mainland Europe and the UK to examine luxury and taste in early modern Europe.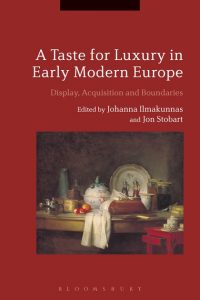 In the 18th century, debates raged about the economic, social and moral impacts of luxury, whilst taste was viewed as a refining influence and a marker of rank and status. This book takes a fresh, comparative approach to these ideas, drawing together new scholarship to examine three related areas in a wide variety of European contexts. Firstly, the deployment of luxury goods in displays of status and how these practices varied across space and time. Secondly, the processes of communicating and acquiring taste and luxury: how did people obtain tasteful and luxurious goods, and how did they recognise them as such? Thirdly, the ways in which ideas of taste and luxury crossed national, political and economic boundaries: what happened to established ideas of luxury and taste as goods moved from one country to another, and during times of political transformation?
Through the analysis of case studies looking at consumption practices, material culture, political economy and retail marketing, A Taste for Luxury in Early Modern Europe challenges established readings of luxury and taste. This is a crucial volume for any historian seeking a more nuanced understanding of material culture, consumption and luxury in early modern Europe.