ENCOUNTER publication: Estate landscapes in Northern Europe
First ENCOUNTER Publication (published May 2019)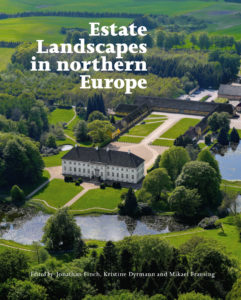 Title: Estate Landscapes in Northern Europe
Editors: Dr. Jonathan Finch, Reader in Historical Archaeology at the University of York and MA Kristine Dyrmann, PhD student and Academic Assistant at the Danish Research Centre for Manorial Studies at Gammel Estrup and Dr. Mikael Frausing, web editor at www.danmarkhistorien.dk, Aarhus University.
Publisher: Aarhus Universitetsforlag (Aarhus University Press)
Read more/shop: https://unipress.dk/udgivelser/e/estate-landscapes-in-northern-europe/
Northern European society and landscapes have been structured by the presence of estates and country houses since they emerged from the end of the medieval period. The impact they have had on shaping the cultural landscape of the modern era is considerable, but often overlooked. This is the first volume to focus on the role of the estate landscapes in northern Europe, a region which had strong cultural and economic connections from the seventeenth century, but which has been neglected by academics. However, trade connections across the North Sea and the Baltic Sea between northern neighbors promoted and sustained important connections between a group of emerging nation states.
This first comparative study of the region draws attention to significant similarities, differences, chronologies and characters which sheds new light on the creation of the modern landscape in Europe. 'Estate Landscapes in Northern Europe' is the first publication written by and published by the ENCOUNTER Network.
Anthology Contributors:
Jonathan Finch and Kristine Dyrmann:"Estate Landscapes in northern Europe: An introduction"

Mikkel Venborg Pedersen: "Power, Grace and Authority: The Cultural Landscape of Danish Estates c. 1600-2000″
Jonathan Finch: "Making Modern England: The 'New Domesday' and Estate Landscapes during the Late-Nineteenth Century"
Göran Ulväng: "The Swedish Manor 1750-1950 – Decline or Continuity?"
Carsten Porskrog Rasmussen: "The 'Dukeries' around Sonderborg: An early modern manorial landscape between Scandinavia and Germany"
Daniel Menning: "Nobility, Peasantry and Estates in southwestern Germany, from the eighteenth to the twentieth century"
Yme Kuiper: "Country Houses and Estates in Dutch urban and rural history 1600-1900"
Arne Bugge Amundsen: "Reformation, Manors and Nobility in Norway 1500-1821"
Jonathan Finch: "Estate Landscapes in Northern Europe: a new agenda"
The edited volume is  divided into 9 chapters covering the estate landscape characteristics across the Northern European region.
The book is to be published as a peer reviewed Open Access online publication, as well as a printed edited volume.
The chapters have been collected from a successful series of conferences held by ENCOUNTER at Gammel Estrup, Denmark (2015), York, UK (2016), Uppsala, Sweden (2017), Gammel Estrup (2017) and Trondheim, Norway (2018).